During March 2023 the BTEC Work Skills students at Ashfield Post 16 were given a fantastic fundraising opportunity which would not only develop both their social and organisational skills, but also improve the lives of people across the UK.
Students spent a great deal of time deciding what positive cause they would raise money for and how they would approach this. In the end, they collectively decided on Children in Need. With BBC's Children in Need taking place on Friday 18th November 2023, students had enough time to plan and run multiple events to raise the highest amount possible. Without delay they started planning their first event!
Students took a hands-on approach to the planning of the event. They surveyed every post 16 student, reached out to local supermarkets to see if they would donate products as well as taking charge with the event's marketing. The internal marketing was particularly successful as there was a genuine buzz around the event.
Students were supported in-school by Work Skills teachers and were given access to the Academy Café. Local supermarkets were extremely impressed with the students' ambitious attitude and teamwork. In the end, Tesco Mansfield and Morrisons Mansfield supplied hotdogs and donuts which aptly gave the event its name 'Dough Dogs'. Asda Sutton-in-Ashfield were also kind enough to send their Community Champion Hayley Carrington. Hayley brought not only hot dogs and condiments but also Children in Need merchandise such as T-shirts, banners, badges and Pudsey ears. Post-16 students were also lucky enough to be visited from the treasured mascot himself Pudsey Bear!
Head of Ashfield Post-16 Linda Maguire speaking on the event:
"There was a real buzz across campus today. This has to be one of the most successful fundraisers ever. It's always a wonderful sight to see students going above and beyond, especially for a cause that will help so many others".
The Work Skills students did a truly fantastic job in both the planning and running of the 'Dough Dogs' event. Some students pushed themselves truly out of their comfort zones and in doing so raised an astonishing £501 for Children in Need! This is just the start with many more events in the pipeline.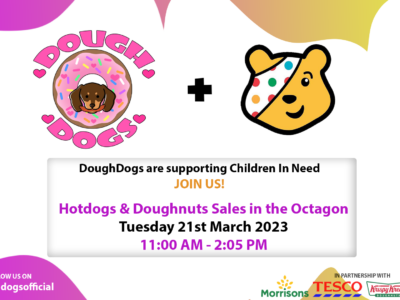 Some DoughDogs marketing created by the Work Skills Students.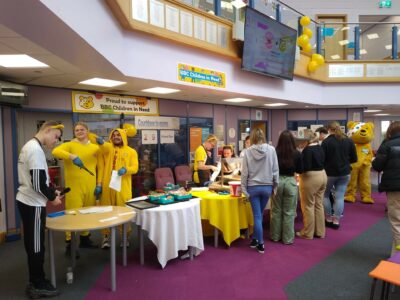 Students and Pudsey Bear serving students and staff of Ashfield Post-16.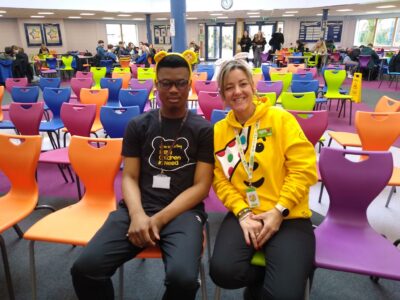 A Work Skills student poses with Asda Sutton-in-Ashfield Community Champion Hayley Carrington.