On 29th March Ashfield School were honoured to host the East Midlands Ambulance Service while they presented an award to Lily, an Ashfield student recognised for her bravery when her father experienced a seizure.  
Emergency call handler Chris Turk explained to an audience of Ashfield staff, local media, as well as Lily's family and friends, how Lily's actions saved her father's life when he experienced his seizure. Lily took charge of the situation, despite being in what the emergency services describe as 'one of the most panic-inducing experiences, somebody can witness'. Lily calmly guided Chris who then directed the ambulance crew to the site of the incident.  
The attending ambulance crew from the original incident were also in attendance, Driver Neil Butler, Attendant Michael Riviere and back-up Paramedic Laura  Hurst. They had nothing but praise for Lily and how she expertly handled the situation. The team explained that when they arrived on the scene Lily had already placed her father in the recovery position, ensuring his airways had remained open and was able to breathe. They also took a moment to praise Lily for the accuracy in which she performed the recovery position 'it was done so well a nurse could have done this.' 
They then presented Lily with  'The Laverick Award' for bravery to a huge round of applause from all those in attendance. 
Headteacher of Ashfield School John Maher also presented Lily with an award from the school. He expressed how proud he was of Lily and said she was a credit to Ashfield School. 
Speaking at the event Paramedic Attendant Michael Riviere told the crowd: 
"[Lily] basically saved her fathers life" 
Local media attended Ashfield throughout the day interviewing both Lily and members of her family. Please click the links below to see the local press stories.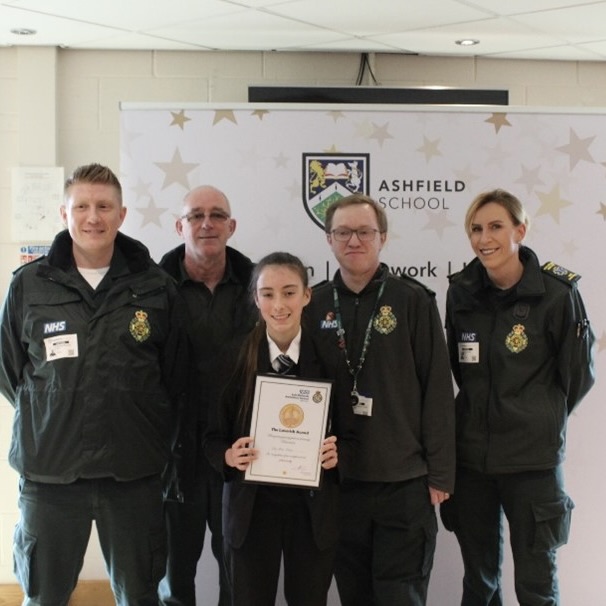 Lily with the ambulance crew that attended to her Dad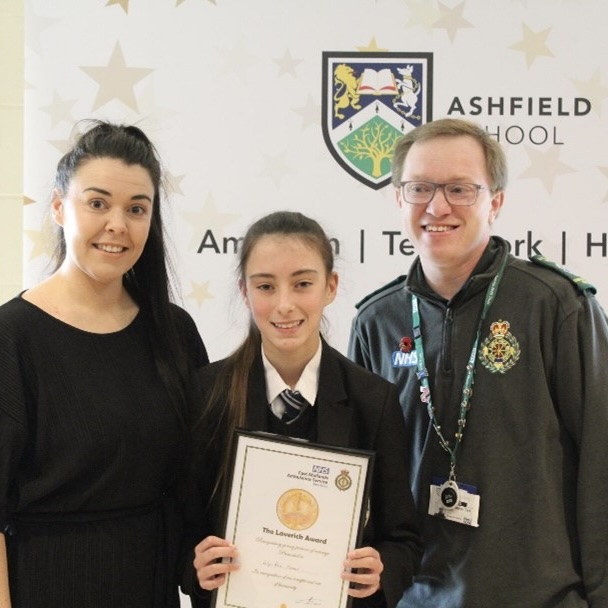 Lily with her mum and Chris Turk the Emergency Operator who took her 999 call.